"Glass is the Hidden Gem In A Carbon Neutral Future", says the scientific revue 'Nature' while the United Nations declared 2022 the International Year of Glass to celebrate the material's exceptional contributions to the UN Sustainable Goals. Glass products are indispensable to the transition towards a climate-neutral circular economy: for renovating buildings, producing more renewable electricity, decarbonising means of transport and making sustainable packaging. Glass also contributes to the digitalisation revolution. In short: glass creates the conditions of prosperity, a symbiosis with society and the environment.
Yet, the glass industry is made of different sectors, be it in terms of manufacturing process, products, markets, economics of the sectors and manufacturers. All have in common the fantastic material glass, which results from the melting of raw materials and recycled glass'.
Glass Alliance Europe represents the European glass industry, regrouping 14 national glass associations and 5 main glass sectors. Aware of the great added-value of their products, the European glass industries come together in Glass Alliance Europe to highlight the importance of glass-making across Europe and to promote an economic and policy environment allowing European-based glass manufacturing industries to continue flourishing and providing Europe with an innovative, stylish and sustainable material that is present in every aspect of our daily lives.
President
Mr. Johann OVERATH
BV Glas
Vice-President
Mr. Jan SWIATEK
ZPPL Polish Glass Director
Secretary-General
Mrs. Adeline FARRELLY
FEVE
*rotating Secretary-General
Secretary-General
Mr. Bertrand CAZES
Glass for Europe
*rotating Secretary-General
Secretariat
Mrs. Veronique FAVRY
Coordinator
The glass industries comprise five sectors covering different glass products, applications and markets. They are each represented at EU level by a specific association:
Building, automotive, solar-energy glass (flat glass)
The flat glass sector represents in volume about 29% of the total EU glass production. Its main markets are the building sector (windows, facades, internal partitioning, etc.) and the automotive industry (windshields, backlights, mirrors). Flat glass is also used in solar-energy applications as well as electronics, appliances, furniture, etc. It supports a large downstream processing sector that provides almost 100.000 extra jobs in the EU.
Continuous-filament glass fibre
The domestic glass sector accounts for about 4% of the total European glass production. This sector comprises the manufacturing of glass tableware, cookware and decorative items such as drinking glasses, bowls, plates, cookware, vases and ornaments.
For more information on domestic glass please contact EDG (European Domestic Glass) secretariat at info@edg-esga.eu
Special glasses represent approximately 3% of the glass production in Europe. These products have a high added-value linked to their intense technological content. This sector regroups a large range of products such as lighting glass, glass tubes, laboratory glassware, glass ceramics and heat-resistant glass.
For more information on special glass please contact ESGA (European Special Glass Association) secretariat at info@edg-esga.eu
The primary mission of Glass Alliance Europe is to provide a common platform to the European glass industries to enhance the exchange of information between national and sectoral associations at EU level, thanks to an efficient pooling of resources and expertise.
This platform enables the glass industries to work together on common environmental and regulatory challenges, which affect the business. While the main focus of Glass Alliance Europe is placed on environmental issues, the pool of resources within the association also allows it to cover trade, social and/or any other relevant common challenge that may arise.
Glass Alliance Europe aims to strengthen the voice of the glass industries in Europe and to promote the dynamic and responsible manufacturing ethos of the sector that also reflects the positive contribution that our glass products make to society.
GLASS PRODUCTION VOLUMES PER SECTOR
EVOLUTION IN EU GLASS PRODUCTION VOLUMES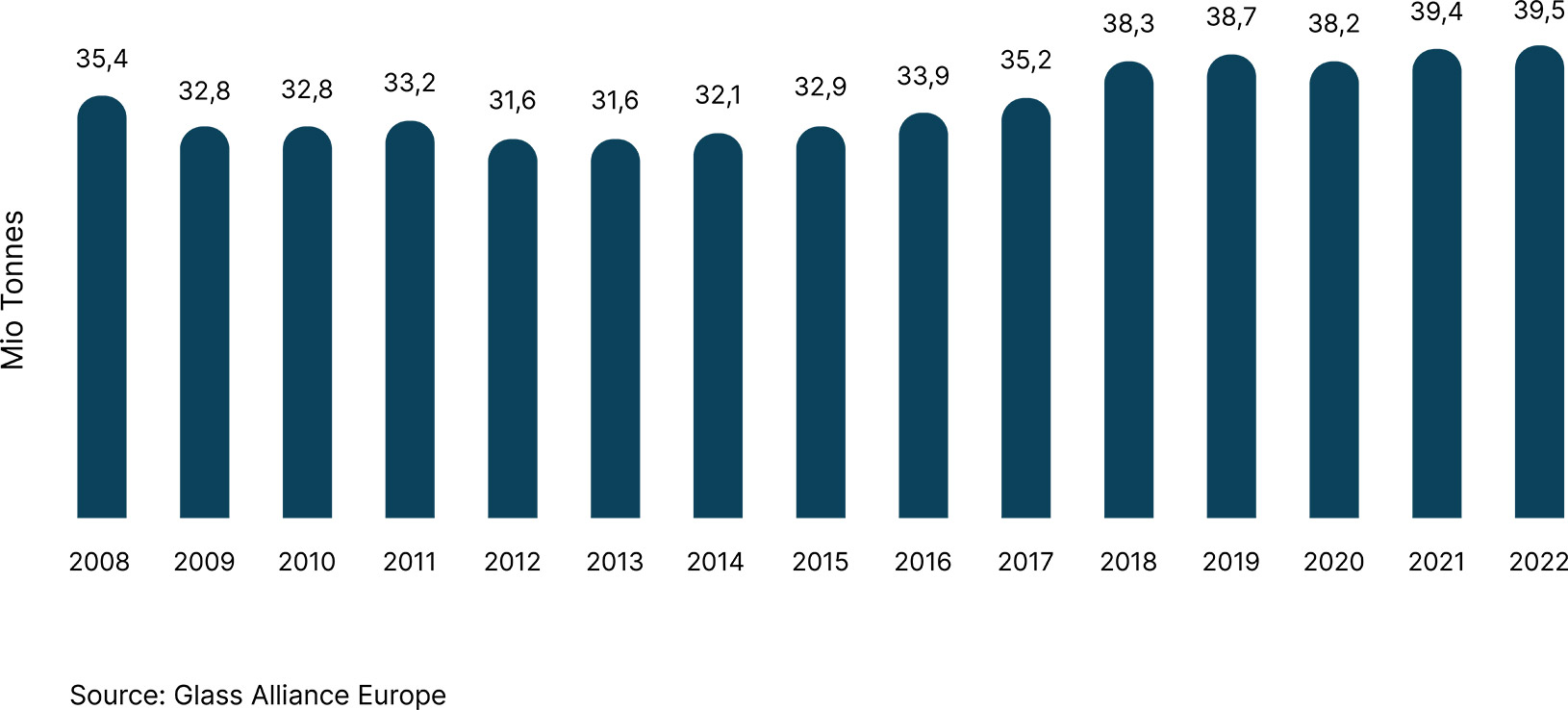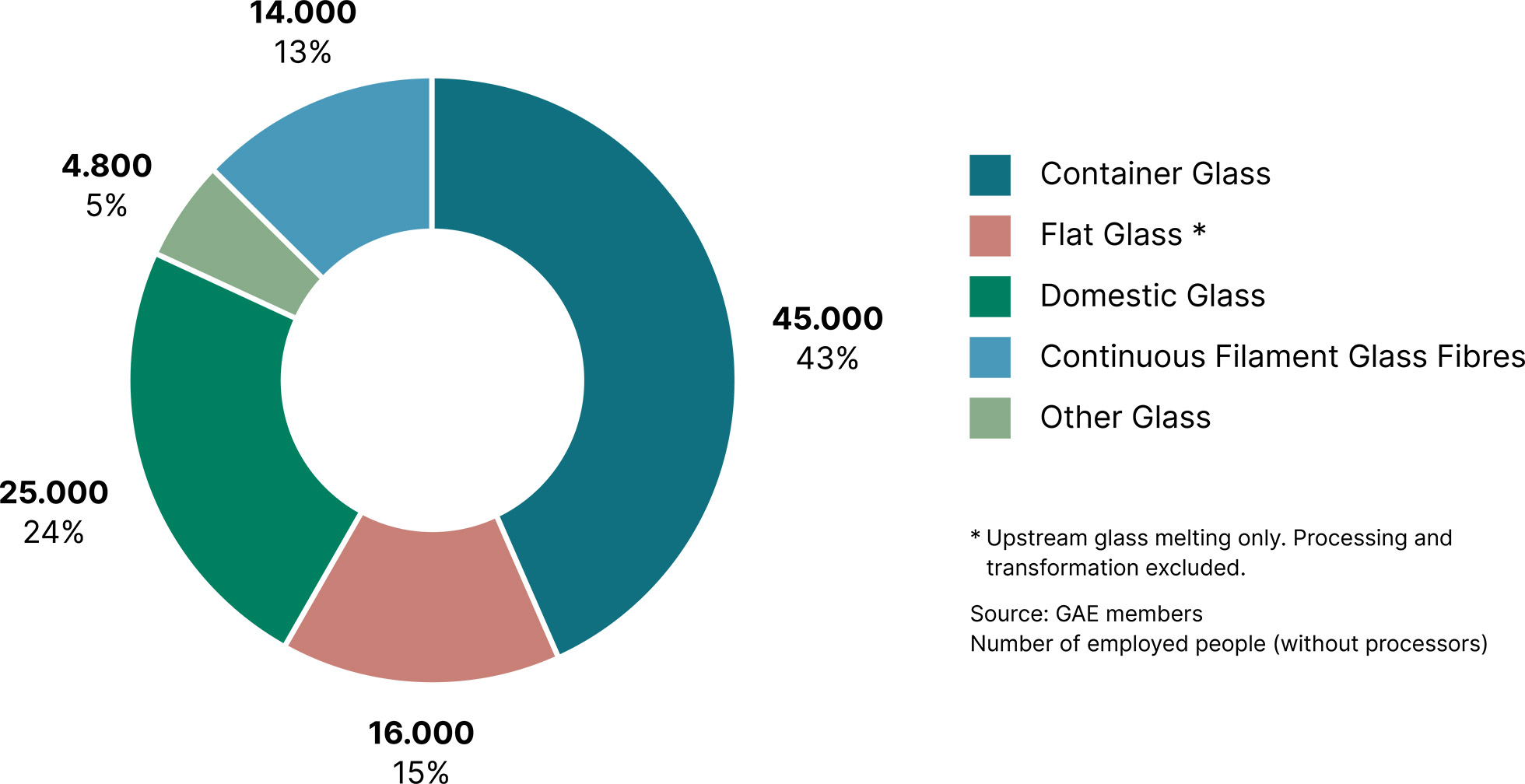 Glass, the hidden gem of a carbon-neutral future
A roadmap for the decarbonisation of the glass industry